For Immediate Release
March 21, 2013
The United Nations Human Rights Council Resolution on Sri Lanka : A Missed Opportunity
Geneva, Switzerland
The United Nations Human Rights Council in Geneva today passed Resolution 22/L.1, on "Promoting Reconciliation and Accountability in Sri Lanka", with 26 of 47 states voting in favour of the resolution. The resolution was proposed by the United States of America and co-sponsored by 40 states.
The adoption of another resolution this year signifies the Council's engagement and commitment to follow through on its previous resolution.
"If Sri Lanka did not get the message last March, it should now be abundantly clear that they can no longer respond to demands with words void of action or actions void of substance. It also sends a clear message to the concerned state that despite its hollow promises and commitments over the years, the international community will no longer sit idly by, but will rather continue to pursue human rights violations of the Sri Lankan state, which include war crimes and crimes against humanity", stated Vani Selvarajah, Spokesperson for the Canadian Tamil Congress. "We would have preferred stronger language on the text of the resolution, including a call for an International Investigation into alleged violations of international human rights law and international humanitarian law as called on by the High Commissioner, instead of just noting this call. We believe the new resolution is an important but insufficient step towards accountability, notwithstanding our disappointments on a number of other key issues" continued Selvarajah.
"We are very disappointed that the resolution again calls on Sri Lanka to conduct an independent and credible investigation into allegations of violations of international human rights law and international humanitarian law", Ms Selvarajah continued. Given the notorious history of failed domestic commissions in Sri Lanka - outlined in the High Commissioner's report to this Council, and as noted in this resolution -the unconstitutional impeachment of the Chief Justice this year, the fractured state of the rule of law, and the deteriorating current human rights situation in Sri Lanka, against the backdrop of Sinhalization of Tamil areas, any demands on the Sri Lankan state to investigate itself is unacceptable. Sri Lanka has consistently demonstrated its inability and unwillingness to initiate a proper and objective mechanism that would be in line with international norms. The Lessons Learnt and Reconciliation Commission and the Army Court of Inquiry serve as a reminder of its failure in this regard. It gives Sri Lanka additional time and space to further delay and will not bring us any further to accountability and reconciliation in Sri Lanka. International investigations of violations of human rights and humanitarian law require timely responses to ensure the integrity of the investigation, and for the protection of evidence and witnesses.
"In this regard, the Council missed an opportunity to clearly articulate Sri Lanka's abysmal failure to undertake an objective domestic investigation, and opt to establish an International Commission of Inquiry", concluded Selvarajah.
The Resolution passed by the Council at the Special Session on Sri Lanka in 2009 marked a failure of the UNHRC, as it did not take meaningful steps towards holding Sri Lanka accountable despite evidence of gross and systematic human rights violations. This course has finally seen the UNHRC undertake a path towards accountability in Sri Lanka. This path, however, is not commensurate with the urgency in which the Tamil people continue to linger almost 4 years since the end of the war. Tamils continue to suffer at the hands of the Sri Lankan state.
There is an urgent need to address the imminent loss of democratic space, and franchise for the Tamil people in the North and East of the island. Sri Lanka has undertaken a campaign against the Tamil people to systematically invade the democratic space of the Tamil people over a 65-year period. This campaign has progressively curtailed the democratic franchise of Tamils in the East and now this same program is being implemented in the North, at an unprecedented speed and resolve. This is clearly a contravention of Sri Lanka's Civil and Political obligation as a ratified of the International Covenant on Civil and Political Rights. Increased militarization, land grabs, and the establishment of new Sinhalese settlements in traditional Tamil areas are exasperating the Sinhalization and Budhization of the North. There is a concerted program of assimilation that would render Tamils an insignificant minority, without a clear territory in which they can exercise their inherent right to self-determination.
CTC is thankful for the enormous efforts undertaken by the United States of America, the Co-Sponsors, and those states that supported the vote. We are particularly grateful to the Government of Canada, especially, Minister John Baird and Prime Minister Stephen Harper for their continued resolve for justice. We continue to admire the enormous dedication of the numerous NGO's. We also remain inspired and moved by the actions of Tamil Nadu students, and we thank them for their determination.
The Canadian Tamil Congress' members started working at the UNHRC in 2009, and despite many obstacles have continued their engagement. The UNHRC has inherent limitations, and cannot be seen as the forum to resolve the issues of the Tamil people, but will serve as one pressure point in a continuum in a multi pronged approach towards peace and justice for Tamils. We will therefore continue to articulate the failures of the Sri Lankan state, and the continued subjugation of Tamils to the international community, both within the UNHRC and in other important international forum.
We will continue to engage the Council with overarching resolve to ensure justice and accountability takes place in Sri Lanka and that Tamil people's inherent human rights in the North and East are realized.
For Media Inquiries, please contact:
Geneva: Mr. Gary Anandasangaree – 416-564-9991, +41 77 91 758 48, Legal Counsel, Canadian Tamil Congress
Toronto: Mr. David Poopalapillai – 905-781-7034, National Spokesperson, Canadian Tamil Congress
Ms. Vani Selvarajah – 647-983-6643, Board of Director, Canadian Tamil Congress
India votes against Sri Lanka; not good enough, says Karunanidhi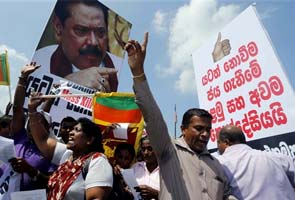 Sri Lankans protest outside the US embassy in Colombo against the UN resolution

March 21, 2013 
Geneva: 
India was among 25 countries that voted against Sri Lanka today at the UN Human Rights Council session in Geneva. However, contrary to the government's announcement yesterday, India did not move any amendments to the resolution sponsored by the US.
"I am not satisfied with India's response and the US resolution. My demands were not considered," said DMK chief M Karunanidhi. His party quit the government earlier this week for failing to take a strong stand against Sri Lanka over its alleged war crimes against ethnic Tamils.
The resolution adopted by a 25-13 vote at the UN's top human rights body today urges Sri Lanka's government  "to initiate credible and independent actions" to ensure justice and accountability for alleged human rights violations and atrocities during the nearly 30-year civil war which ended in 2009, after government troops crushed the separatist Tamil Tigers. 
(Read the UN resolution on Sri Lanka)
The UN did not ask for an international inquiry. Nor did India  seek that, largely because the government and opposition believe that would amount to interfering in another country's internal affairs.
India's envoy at the UN in Geneva, Dilip Sinha, said, "We reiterate our call for an independent and credible investigation into allegations of human rights violations and loss of civilian lives. We urge Sri Lanka to take forward measures to ensure accountability. We expect these measures to be to the satisfaction of the international community." 
(Read full statement here)
Sources in Geneva say that last night, America shot down India's plans for amendments to the UN resolution, arguing that it was too late to make changes and that any revisions would challenge the broad consensus reached among countries that were ready to vote against Sri Lanka.
"We stand by (the) domestic process that we have put into place that is credible and is transparent.  What is important is to show results finally... we are quite confident that we'll be able to if evidence (is) needed is unearthed... we will be able to show clear progress, " said Mahinda Samarasinghe, the Special Envoy of the Sri Lankan President on Human Rights to NDTV.